|By Arabian Post Staff| Gold plunged after trading volume hit 1.8 million ounces in just one minute and gold traders were shaken by the plunge, Bloomberg reported.
Gold traders shaken awake by Monday's rapid price plunge said the move probably won't mean an end to the sleepy pace that's characterized the market in recent months.
Bullion sank at 9 a.m. in London on Monday after a huge spike in volume in New York futures that traders said may have been the result of a "fat finger," or erroneous order. Trading jumped to 1.8 million ounces of gold in just a minute, an amount that's bigger than the gold reserves of Finland
The episode is unlikely to upend the broader trend in gold, where volatility has languished, analysts including George Gero at RBC Wealth Management said. A measure of price swings in the metal fell in April to the lowest in records going back to 2007. It's since held near that level, even amid political discord in Europe, rising U.S. interest rates and mounting tensions between the U.S. and North Korea.
"You haven't seen volatility when volatility was warranted," said Gero, a New York-based managing director at RBC. "You've got a host of important matters that could have moved gold much more than they did. Whenever there's an event-driven rally, it doesn't seem to last."
Some 18,149 lots were traded on Comex in just a minute on Monday, before falling back to 2,334 lots an hour later.
Gold futures fell as much as 1.6 percent to $1,236.50 an ounce on the Comex, the lowest for a most-active contract since May 17. The metal for August delivery traded at $1,245.90 an ounce at 1:05 p.m. in Singapore on Tuesday.
"No one has a clue, apart from the unfortunate individual that pressed the wrong button," David Govett, head of precious metals trading at Marex Spectron Group in London, said of the spike in volume. Thin activity and automated trading may exacerbate such moves, he said.
Others said a trader may have made a larger order than intended, or underestimated the market's ability to absorb so much gold.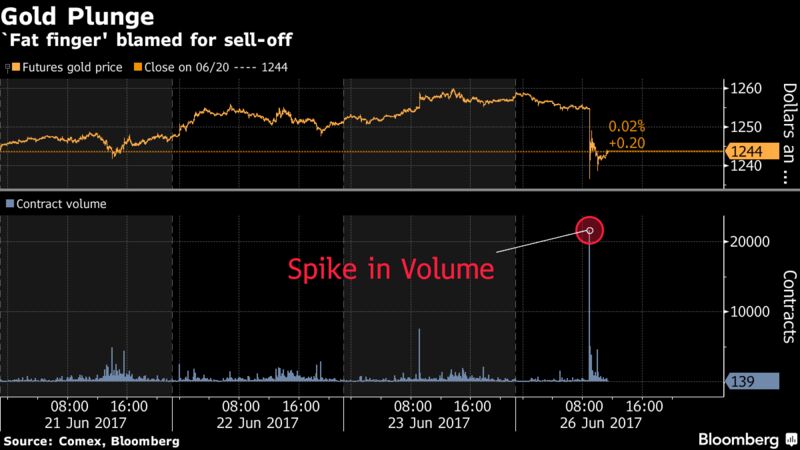 "This bears the hallmarks of a fat-finger 'Muppet' — a trade of 18,149 ounces would be a very typical trade, but a trade of 18,149 lots of a futures contract (which is 100 times bigger) would not be," Ross Norman, chief executive officer of Sharps Pixley Ltd., a London-based precious-metals dealer, said in a note.
"It leaves us wondering if a junior had got confused between 'ounces' and 'lots,'" Norman said.
Rising use of computer-driven algorithmic trading has often been blamed for extraordinary movements in financial markets, known as flash crashes, in recent years.
"These moves are going to become more widespread with the way things are going," Govett said by email. "The more they happen, the worse they will become as people back away from holding positions."
While speculation mounted on what triggered Monday's move, analysts said the effect was compounded by thin trading amid holidays in countries including Singapore and Malaysia.
Brad Yates, head of trading for U.S. gold refiner Elemetal, said the low volatility seen in gold and other markets including equities will probably linger for a little while longer.
"We expect to see volatility in gold along with other assets pick up some time in the fourth quarter," said Yates. "From a bigger perspective, gold's suppressed volatility is symptomatic of everything else in the macro market. In the meantime, we are subject to short-lived shocks, followed by extended periods of quiet." (With Bloomberg)