/Marshall Hargrave/investorsalley.com/The end of Google's reign as the king of search is near. Competitors are eating away market share and growth is sputtering. Trying to cherry-pick the next winner in search, however, is akin to rolling dice at a casino. All luck. Where investors are going to make their millions is in this red hot sector that is on the vanguard of life-saving technology that will revolutionize medicine as we know it. 
Since the start of 2014, Google (NASDAQ: GOOGL) hasn't done much for shareholders.
Shares are flat over the last fifteen or so months while the S&P 500 is up 12% and Apple (NASDAQ: AAPL) shares has soared 56%.
But Google's underperformance is for a very good reason. It appears the reign of Google as a prized tech stock and leader in search is coming to an end.
Why's that? Search is changing, but Google has not.
Google's share of the search market is already in jeopardy. Over the next ten years, its dominant position in search will be akin to Underwood's 50% market share of the typewriter market in the 1920s.
Google's market share of the U.S. search market is under 75%, having fallen yet again in January. That 75% figure is the lowest since 2008, when they first started tracking this data.
Google's bread-and-butter is Internet search, with about 80% of its revenues being derived from search-related activities. And that's served it and its shareholders well over the last decade turning the company into an ad giant.
But that pie (total ad spending) is only so large. And there are more and more companies looking to get a piece. Its not just the usual suspects like Twitter (NASDAQ: TWTR) and Facebook (NASDAQ: FB) either, but you've got mobile apps like Tinder and Snapchat looking to get in on the opportunity.
The struggling Yahoo (NASDAQ: YHOO) is still hellbent on making itself relevant in search again, having recently partnered with Mozilla. Google really is taking it from all angles here with its core business is being attacked on many different fronts.
Facebook brought its Graph Search to mobile just a couple months ago. Although Facebook's Graph Search has been around in the desktop form for two years, the idea of crowdsourcing search appears to be the future. Facebook's search engine allows users to tap into their network to find things like restaurant recommendations or other people that like certain music or movies.
Twitter takes the idea of crowdsourcing search to another level by allowing you to expand searches beyond just your network.
Here's one way to think about it — search on Google is a catalog of what has happened, while Facebook, and to a larger extent Twitter, provide searchers with a catalog of what is happening. If Google is the search engine of the past, Twitter is the search engine of the future.
And if Google is the epitome of a growth stock over the last decade, what does the future growth stock look like?
Naturally, if Google is losing in search, someone else is winning. But trying to pick that winner will prove to be a fool's game. The state of the tech industry right now is that there are new startups popping up daily, meaning, competition is getting pretty fierce.
The other issue is that Google is way behind in the search battle overseas.
And that's, arguably, where the best growth opportunities in search will be going forward.
The likes of Baidu (NASDAQ: BIDU) and Yandex (NASDAQ: YNDX) already have strongholds on the China and Russian market, respectively.
Plus, the income growth for Yandex and Baidu have dwarfed Google over the last three years; yet, Google still trades in-line with these two from a valuation perspective. That's especially puzzling when you consider that Yandex and Baidu are expected to grow earnings at a rate that's nearly double Google's expected growth rate for the next year.
Then there's the shift to mobile.
Internet usage via smartphones and tablets surpassed desktop in mid-2014. And with the rise of mobile usage, there's been a shift toward mobile search. The key here is that mobile ads carry lower pay rates.
But for a company with a leadership position in mobile operating systems with Android, you'd think this would be a positive for Google.
Then again, Google hasn't figured out a way to monetize its large Android user base, still relying on search for its mobile-related revenues. Google is already seeing a decline in its overall cost per click due to the lower rates on mobile.
The big issue is that there's no clear path to recover  the lost search revenue.
YouTube seems like a great asset with just as many users as Facebook, but it isn't making Google any money. Google bought YouTube for just $1.65 billion in 2006, but even with a billion or so users it has been almost impossible to monetize it. The video platform brought in $4 billion in revenue last year (roughly 6% of Google's revenues), but only managed to break-even on an earnings basis.
Its also becoming more commonplace for users and marketers to upload their videos directly to Facebook, therefore bypassing YouTube. So Facebook is taking share from Google in more ways than one. And, little known, but AOL (NYSE: AOL) is already making serious headway with video and advertising.
In terms of other products, Google+ has failed to be the Facebook killer it was hyped up to be and Android is hitting its saturation point. Then you've got these "fairytale" projects like driverless cars, drones and delivery robots that have become a big drag on Google's cash flow.
Google continues to funnel shareholder monies into research and development and farfetched experiments, and its profit margins are shrinking as a result, with its net margin going from 29% to under 22% over the last five years.
When Google IPO'd in 2004, nobody knew how big online advertising would be. Back then, Google was trading at a market cap of just $50 billion (compared to $380 billion today) and its price-to-earnings multiple was 130.
Now, things have changed. Google's future is a bit clearer but not necessarily brighter.
One thing I find interesting, almost fitting, is that Google's reign is coming to an end just as biotech is becoming the new Internet.
The state of the Internet during the early 2000s is essentially what biotech is today.
The biotech industry's prospects for growth are some of the strongest in the market and there's still plenty of companies with the potential to do what Google did with Internet.
In fact, several biotech stocks are trading with market caps and P/E ratios of about half what Google had when it IPO'd in 2004.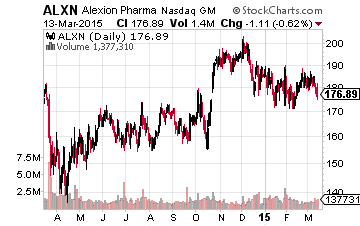 Take Alexion Pharmaceuticals (NASDAQ: ALXN), it's a $36 billion biotech that develops drugs for rare diseases. It's trading at a P/E of 23 based on next years earnings estimates. Given it serves the "orphan" drug market its drugs command a high price. Its key drug, Soliris, runs about $400,000 a year and treats a lifelong chronic condition. And Soliris also has the potential to treat other indications and dominate other niche markets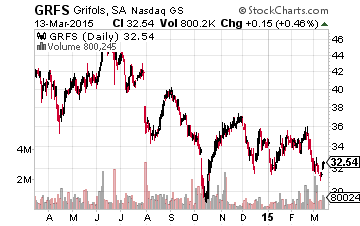 Another biotech that could easily be the next Google? Grifols SA (NASDAQ: GRFS) has a $22 billion market cap and trades at just 16 times next year's earnings estimates. Grifols is one of the top three producers of plasma products. Its key drug, Prolastin, dominates the U.S. market for a rare pulmonary disorder. The other beauty of Grifols that there are only a handful of industry players.
In the end, I do think social media will become our default search engine. There's a clear advantage to crowdsourcing search, but I won't be playing the guessing game of who will win. The issue is that the competition for ad spending is already so fierce, and at the end of the day, there's only so many hours in the day that people can spend on social media.
The biotech businesses have stronger moats, meaning it's easier for them to defend their businesses, and they have a clear advantage when it comes to the spending hierarchy; healthcare spending is more important and larger than ad spending which signals a brighter future for investors looking to exponentially grow their wealth.
Urgent Buy Alert– A little known FDA backdoor has created a $3.35 Billion market opportunity for a tiny pharmaceutical company that you do not want to miss out on. This is one of those rare times when you're able to say that 500% or 1,000% revenue increases are conservative targets.
Our math suggests growth of as much as 2,715.13% based on just the drugs on their way to market right now. This is a time sensitive opportunity so act fast