1Malaysia Development Bhd. defaulted on a $1.75 billion bond this week. It missed a $50 million interest payment amid a dispute with Abu Dhabi's sovereign wealth fund over who is required to make the payment.
The default is the latest episode in financial scandals that have rocked 1MDB, already a target of  of global investigations into allegations of money laundering and embezzlement.
Abu Dhabi's International Petroleum Investment Co. guaranteed two separate dollar-denominated bonds for 1MDB in 2012 in deals arranged by Goldman Sachs Group Inc.
The default this month concerns the debt with a 5.75 percent coupon sold in a private placement in October that year. It was issued by 1MDB Energy (Langat) Ltd. and proceeds from the securities were used to fund the acquisition of power assets from Genting Bhd. The holders of the debt are not known because of the private placement. IPIC said it would pay bondholders after 1MDB defaulted.
A $1.75 billion offering with a 5.99 percent coupon arranged by Goldman in May 2012 hasn't missed payments. There is a $52.4 million interest payment due May 11. The debt was issued by 1MDB Energy Ltd. and proceeds were used to fund the purchase of power assets from billionaire T Ananda Krishnan. The 1MDB default this month doesn't trigger a cross default on the 5.99 percent bonds.
What's the debt dispute with IPIC about?
In a binding term sheet entered in May 2015, IPIC provided 1MDB with $1 billion to settle some liabilities. IPIC also said it would assume obligations to pay interest due for $3.5 billion of 1MDB bonds that it guaranteed, and forgive an undisclosed amount of debt. In exchange, 1MDB would transfer assets to IPIC in the aggregate value of the cash advance, the assumption of bond payments and debt forgiveness.
 On April 18, the day the interest payment was due, IPIC said its obligations of financial support to 1MDB had ended after the fund and its sole shareholder — Malaysia's finance ministry — failed to pay it more than $1.1 billion including interest that had accrued under the terms of the binding term sheet. The two were "in default," it said.
1MDB said on April 26 that it had "attempted to meet all its obligations to IPIC, whereas IPIC has publicly denied receipt or knowledge of various financial transactions and/or guarantees entered into between the parties."
What other debt does 1MDB have?
Apart from the bonds that are co-guaranteed by IPIC, 1MDB also has a $3 billion 4.4 percent bond maturing in March 2023. The bond was issued by unit 1MDB Global Investments Ltd. and the coupon non-payment didn't trigger a cross-default on this security. This debt has a letter of support from the Malaysian government.
1MDB also has a 5 billion ringgit 5.75 percent local currency bond due in 2039. This bond has an explicit government guarantee. The missed payment has triggered a cross default on this security.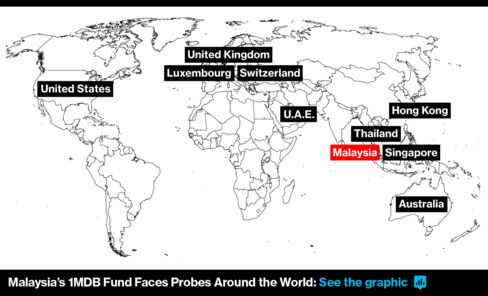 Another 1MDB unit, Bandar Malaysia Sdn., issued 2.4 billion ringgit of notes maturing in 2021, 2023 and 2024. 1MDB said a cross default has been triggered on these borrowings.
The fund also has an 800 million ringgit loan from the country's Social Security Organisation. While there is no cross default on this, 1MDB said there's a possibility that the "material adverse effect" clause may be triggered as the borrowings are backed by the government.
The company said it has repaid all short-term and bank borrowings after selling its energy unit and part of a property project and has a cash surplus of 2.3 billion ringgit.
Why are investors still buying Malaysian bonds?
Credit rating companies remain confident that the 1MDB default will have a limited impact on the sovereign, and that the country can bear the burden if necessary. The government has said it didn't believe that any amounts it would be required to pay with respect to 1MDB would be material to it.
Standard & Poor's said this week it doesn't see 1MDB affecting Malaysia's rating for now, while Fitch Ratings said it had "long viewed" the state fund as a close contingent liability of the sovereign.
Malaysia has said it faces as much as $4.5 billion in potential liabilities should 1MDB default. Moody's Investors Service estimates Malaysia's contingent liabilities under the default could amount to about $7.5 billion, or 2.5 percent of gross domestic product in 2015.-Bloomberg