Omar Sharif is undoubtedly the biggest film star from the Arab world, an icon since he first emerged as a wobbling, pixelated speck on a desert horizon in Lawrence of Arabia. Unfortunately, to many he's the only film star from the Arab world, something that Irish director Jim Sheridan has taken it upon himself to fix.
"I used to be very friendly with Marlon Brando," explains Sheridan from his home in Dublin. "After 9/11, he said something very interesting. He said that the problem with 9/11 is there'll never be another Omar Sharif. And I thought, you know what, Marlon's probably right in a normal world, but I've seen a good few actors. I thought that was a challenge."
To help him on his quest to find the next Sharif – someone who, like the 82-year-old Egyptian legend, "penetrates American cinema and western culture" – Sheridan has set up the Dublin Arabic film festival, which will take place for the first time in Ireland's capital next month.
Over four days, 8-11 May, the festival will show a mix of contemporary features from North Africa and the Middle East. There will also be talks with some of the directors and actors, including Sharif himself, who will present his touching 2003 drama Monsieur Ibrahim on the opening night.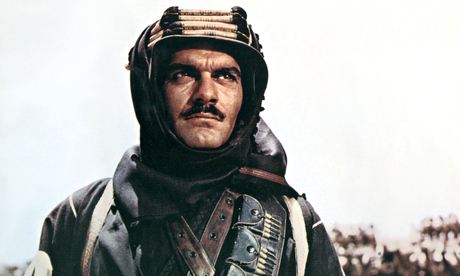 Omar Sharif in Lawrence of Arabia, 1962: the only Middle Eastern film star many western audiences know. Photograph: Sportsphoto Ltd/Allstar"I think the position of Arabs in world cinema is critical," says Sheridan. "They're always these terrorists and it's kind of a pain in the head. And when it comes to Ireland, I don't appreciate that they've picked up the baton we dropped."
But connections between the Emerald Isle and the Arab world don't stop at annoying film typecasts. TE Lawrence – whose story was told in the David Lean epic that made an international star of Sharif – had Irish roots through his father, while Ireland has often taken the lead in Europe with regards to the demands for Palestinian self-determination and an independent state. "Within the Arab world there's always been warmth for the Irish. I think we're that sort of weird post-colonial culture that they get," says Sheridan.
Entirely coincidentally, Sheridan's festival lands following arguably the best year for Arab cinema internationally, with a record three films from the Middle East up for contention at last February's Academy Awards.
Omar, the Palestinian thriller nominated in the Best foreign language film category, is the festival's closing-night screening, with its director Hany Abu-Assad in Dublin for a Q&A. And in Adam Bakri, the film's enigmatic star, Sheridan sees someone who could well take up Omar Sharif's crown.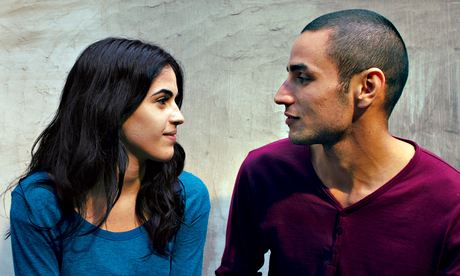 Leem Lubany, left, and Adam Bakri in the Oscar-nominated Palestinian drama Omar. Photograph: Everett Collection/RexOther films in the schedule include Horses Of God and They Are The Dogs from rising Moroccan talent Nabil Ayouch, Ahmad Abdalla's experimental Egyptian revolution drama Rags and Tatters, and Homeland, Mohamed Hamidi's comedic debut set in Algeria. There will also be screenings of the grandiose Gaddafi-funded and Oliver Reed-starring Libyan historical drama Lion of the Desert, plus the big-budget 2006 adaptation of Alaa Al Aswany's bestselling book The Yacoubian Building, considered one of the biggest films in Egyptian box-office history.
"It's not really a political festival, it's more about introducing the idea that there's fun in that culture," says Sheridan.
But bridge-building and future Sharifs aside, there may be a different reason for Sheridan's hand of friendship, a debt Sheridan has been looking to pay back since 1993. "I always felt that The Battle of Algierswas among my favourite films," he says of Italian director Gillo Pontecorvo's 1966 classic about the Algerian war for independence. "I actually stole from it for In The Name of the Father."
• The 1st Dublin Arabic film festival runs from 8-11 May at the Light House Cinema, Smithfield, Dublin