Saudi Arabia's Deputy Crown Prince Mohammed bin Salman unveiled his "Saudi Vision 2030" to reduce the kingdom's reliance on oil.
The blueprint, approved by King Salman, includes plans to sell less than 5 percent of Saudi Arabian Oil Co., or Aramco, the creation of the world's largest sovereign wealth fund and raising non-oil revenue.
Here's a guide to the main elements of the plan, announced on Monday in Riyadh and during Prince Mohammed's interview with Saudi-owned Arabiya television. The prince had disclosed some of the proposals in two interviews with Bloomberg News.
 Aramco IPO:
* While Aramco's valuation hasn't been completed, the company is expected to be worth more than $2 trillion, the prince said, making the planned initial public offering the world's biggest.
* "Aramco's IPO would have several benefits, the most important of which is transparency," he said. "Aramco would have to announce its earnings every quarter. It will be observed by all Saudi banks, all analysts and Saudi thinkers as well as all international banks and think tanks. You'll have great supervision overnight."
Public Investment Fund:
* Saudi Arabia will create the world's largest sovereign wealth fund to hold state assets, including Aramco and real-estate, said the prince. Land will be developed and companies owning these projects listed. The fund will be headquartered in King Abdullah Financial District.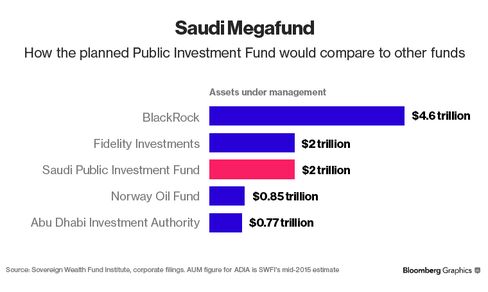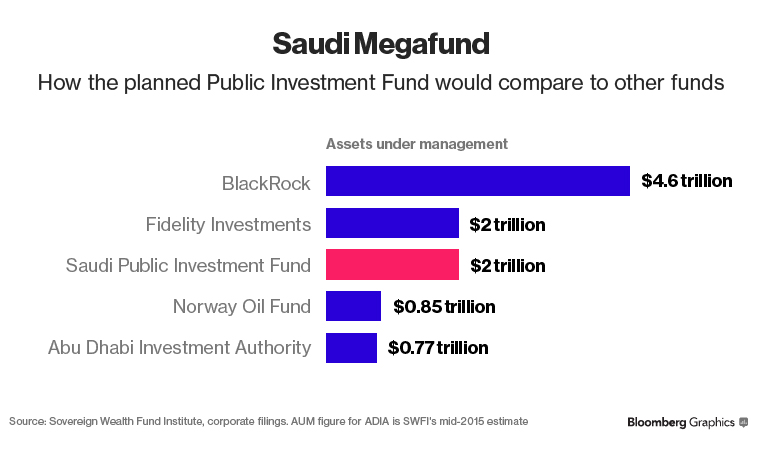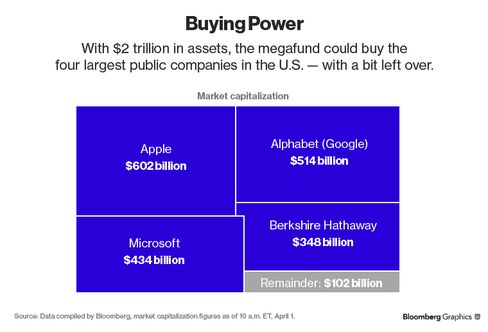 Military Industry:
* Saudi Arabia plans to set up a holding company by the end of next year for defense industries as it seeks to meet more of its military needs domestically. The kingdom will also restructure several contracts and tackle wasteful spending in the defense industry.
* "Our aim is to localize over 50 percent of military equipment spending. We have already begun developing less complex industries such as those providing spare parts, armored vehicles and basic ammunition," according to the vision's document. "We will expand this initiative to higher value and more complex equipment such as military aircraft."
* "We have a problem with military spending," the prince told Al Arabiya. "When I enter a Saudi military base, the floor is tiled with marble, the walls are decorated and the finishing is five stars. I enter a base in the U.S., you can see the pipes in the ceiling, the floor is bare, no marble and no carpets. It's made of cement. Practical."
Non-oil Economy
* The kingdom aims to generate 35 percent of the economy from small and medium enterprises, up from 20 percent, according to the plan. It's also plans to raise non-oil revenue to 1 trillion riyals ($266.6 billion) from 163 billion riyals.
* The kingdom also wants to reduce unemployment among Saudis to 7 percent from 11.6 percent, according to the document.
* Plan includes allowing expatriates to own property in selected areas, and simplifying visa processes. The kingdom also aims to raise home-ownership rate to 52 percent by 2020 from 47 percent currently.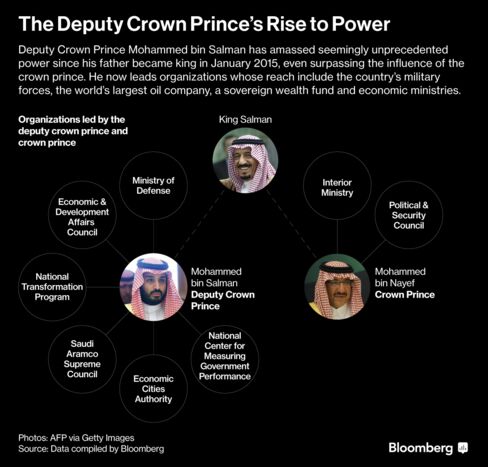 * "The demand for housing is extremely large. You are talking about 70 percent of Saudis below 30 years old. If we maintained 47-percent ownership rate that would be an achievement," the prince said. The housing ministry is working on plans to restructure sectors related to housing, such as land taxes, advance sales, banking and finance lending procedures, he said.
Saudi Arabia Enters Homebuilding Business to Tackle Shortage
Subsidies
* Seventy percent subsidies in 2015 benefited the rich, while low- and middle-income people received only 30 percent, the prince said. "Rich man's consumption of water and electricity equals that of 10 or 20 families."
*"There won't be any major liberalization of energy prices unless there is a program that covers" those who rely on subsidies, he said.
Government Restructuring
* Saudi Arabia has started to enhance government performance by "eliminating supreme councils and establishing the Council of Political and Security Affairs as well as the Council of Economic and Development Affairs," according to a document released outlining the kingdom's vision.
* The kingdom plans to continue restructuring the government "comprehensively and gradually, based on our clear priorities."-Bloomberg