Indonesia is drawing interest from Middle Eastern banks seeking to tap the world's biggest pool of Shariah-compliant investors as some Islamic lenders wind down or close operations in Malaysia and Singapore.
Emirates NBD PJSC wants to invest at least $300 million in a new Shariah lender or acquire a stake in an existing one, Dhani Gunawan Idat at Indonesia's financial regulator said in a phone interview. That's a vote of confidence for Southeast Asia's largest economy, which is also bidding to host the regional infrastructure unit of Saudi Arabia-based Islamic Development Bank that's due to begin operations in 2016.
The investments would be a boost for Indonesia in its ambition to become an Asian hub in the $2 trillion industry. Emirates NBD's plan comes as Kuwait Finance House prepares to close its Islamic operations in Malaysia, while Bahrain's Elaf Bank BSC has already done so. DBS Group Holdings Ltd. is winding down its Singapore arm catering to Muslims, having said this month it was "unable to achieve economies of scale."
 "Islamic banking elsewhere is starting to reach saturation point," Idat, director of Islamic banking research, regulation and licensing at the Financial Services Authority, said in the Sept. 23 interview from Jakarta. "This investment will bring in fresh funds as well as Middle East expertise in infrastructure investment, which the economy needs."
Investment from the Middle East would be timely as Indonesia's Shariah-compliant banking assets have shrunk 18 percent in 2015 from a year earlier amid the global financial turmoil. They stood at 201 trillion rupiah ($13.7 billion) in May, compared with Malaysia's 523 billion ringgit ($117 billion), central bank data show.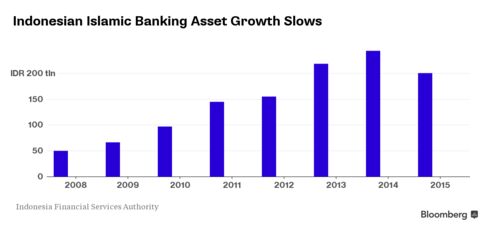 Indonesia offered the highest profitability among nine major Islamic banking markets tracked by Ernst & Young LLP, with a return-on-equity of 15 percent, according to the company's 2014-15 competitiveness report. That compared with 10 percent in both Malaysia and the United Arab Emirates, 0.7 percent in Bahrain and 7.4 percent in Kuwait, the research firm said.
While Indonesia limits foreign ownership in the nation's lenders to 40 percent under legislation introduced in 2013, it's seeking to consolidate the banking industry. In that vein, the FSA will allow an investor to take a bigger stake as long as the buyer merges the two entities. Emirates NBD, Dubai's largest lender, was advised to open a new Islamic bank in the Southeast Asian nation to sidestep the ruling, Idat said.
 A spokesman for Emirates NBD, who asked not to be identified because of company policy, declined to comment on the Indonesia plan when contacted by phone on Monday.
"Indonesia has some resistance toward foreign banks coming into the market," said Megat Hizaini Hassan, head of the Islamic finance practice at law firm Lee Hishammuddin Allen & Gledhill in Kuala Lumpur. "The perception of some in Indonesia is that foreign banks are trying to gobble up the business."
Malayan Banking Bhd. in Kuala Lumpur bought out PT Bank Internasional Indonesia in 2008 before the investment cap was brought in, and also set up PT Bank Maybank Syariah Indonesia in 2010. Malaysia's CIMB Group Holdings Ltd. and Singapore's Oversea-Chinese Banking Corp. entered the local market in 2002 and 2008, respectively, and now offer Shariah-compliant products via PT Bank CIMB Niaga Syariah and PT Bank OCBC NISP.
The Islamic Development Bank, whose largest shareholders are Saudi Arabia, Libya, Iran and Nigeria, may choose Indonesia as the base for its Islamic Investment Infrastructure Bank, Finance Minister Bambang Brodjonegoro said in April. The government is approaching "key countries," especially those in the Middle East, to earn the right to host the IDB, he said. The multilateral lender currently owns 32.7 percent of PT Bank Muamalat Indonesia, the country's second-largest Shariah-compliant bank by branches.
Singapore's DBS Holdings abandoned its plan to buy conventional lender PT Bank Danamon Indonesia for $6.5 billion in 2013 due to the ownership rule. China Construction Bank and South Korea's Shinhan Bank are currently seeking two acquisition targets to merge.
"The Indonesian Islamic banking market has all the ingredients to achieve similar, if not more success" than its counterparts, said Alhami Abdan, head of international finance and capital market at Kuala Lumpur-based OCBC Al-Amin Bank Bhd. "Once the gears are in place, it may well be an unstoppable journey ahead."-Bloomberg