Saudi Arabia's sovereign wealth fund made its highest-profile deal, investing $3.5 billion in U.S. ride-share company Uber Technologies Inc. as the country seeks to diversify its assets with more overseas acquisitions.
Yasir Alrumayyan, managing director of the Public Investment Fund, will take a board seat at the San Francisco-based company after the deal, which values Uber at $62.5 billion, the company said in a statement. It's the biggest investment in Uber to date and in line with the company's previous valuation.
Uber's biggest global competitor, Chinese ride-hailing company Didi, is working on closing a funding round of more than $3.5 billion, according to comments made Wednesday in California by company President Jean Liu. Didi said last month it would raise $1 billion from Apple Inc. while Alibaba Group Holding Ltd. and its finance affiliate invested another $400 million. India's Ola is also spending aggressively on expansion.
The unusual pairing between the Saudi fund and the top Silicon Valley startups fits the needs of both. Uber, in no hurry to hold an initial public offering, gets an unprecedented cash infusion to fund costly global expansion against a slew of well-funded competitors. Saudi Arabia, which has a wealth fund with about $200 billion in assets, moves forward with a strategy of overseas expansion after a more than four-decade focus on domestic investments.
The fund plans to boost its share of overseas holdings to about half by 2020 from five percent now, with Alrumayyan spearheading a drive to recruit international bankers, according to people with knowledge of the matter.
Remake transportation
 Founded in 2009, Uber has won over investors with a promise to remake transportation. In addition to upending the taxi industry, the company has been researching self-driving cars and other services that CEO Travis Kalanick believe diminish the need for people to own a car. Other Uber investors include mutual fund Fidelity Investments, Chinese search engine company Baidu Inc. and venture capital firms including Benchmark Capital.
Uber joins competitors in securing investment globally as the popularity of ride-hailing services surges. Lyft Inc., the second-largest ride-hailing company in the U.S., has raised at least $100 million from Saudi Arabian billionaire Prince Alwaleed Bin Talal's Kingdom Holding Co.
In July, Saudi Arabia's wealth fund took a 38 percent stake in Korea's Posco Engineering & Construction Co. for $1.1 billion and also plans to invest in Russia. The fund may eventually control $2 trillion once ownership of oil giant Saudi Aramco has been transferred, according to Deputy Crown Prince Mohammed bin Salman.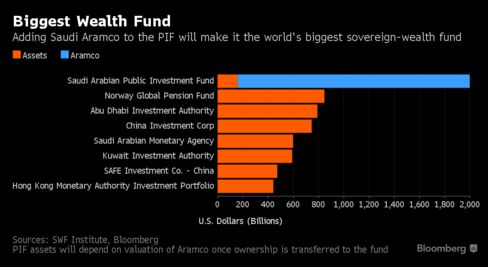 Financing Round
Uber expanded its previous financing round to include the investment from Saudi Arabia's Public Investment Fund. The money brings Uber's total balance sheet, including cash and convertible debt, to more than $11 billion, the company said. The cash infusion helps the company push off the need to go public.
Uber is currently operating in nine countries and 15 cities in the Middle East and North Africa. The company said it has committed to investing $250 million in the region. It's continuing to spend much more than that in China and India.
Uber is expanding in Saudi Arabia, where the app's popularity among women has created one of its fastest-growing markets. The company is aiming for growth of 50 percent to 60 percent in trips per month in 2016, versus estimated gains of 25 percent to 40 percent last year, Majed Abukhater, head of Saudi operations, said in January.
"Uber has a dynamism inside Saudi Arabia and the region," John Sfakianakis, Riyadh-based director of economic research at the Gulf Research Center, a think tank, said in a phone interview.  "It's one of many international investments that will be undertaken given the fund's stated strategy."
There's some opposition to its services, which offer alternative transport options for women, who can't drive in the kingdom but have an increasing role in the economy, Abukhater said. Some Saudi municipal and business-lobby leaders have said services such as Uber and regional competitor Careem are illegal or need closer oversight.
PIF, which was set up in 1971, holds the government's stakes in companies including Saudi Basic Industries Corp., the world's second-biggest chemicals manufacturer, and National Commercial Bank, the Middle East's second-largest lender.
Since the fund was transferred last year to the Council for Economic and Development Affairs from the Ministry of Finance, it has started playing a prominent role in the country's investment strategy. A unit in February established five joint ventures with international defense companies to make make military hardware.-Bloomberg