Gold is starting to shed its reputation as a dead asset, and bulls can thank signs that the U.S. economy is starting to sputter for the boost.
The metal climbed above its 200-day moving average on Wednesday for the first time in about five months. A gauge of inflation dropped by the most since January and retail sales missed forecasts, increasing traders' bets that the Federal Reserve will delay raising interest rates until next year. That's good news for gold, which loses out when rates rise because the metal doesn't pay yields, unlike competing assets.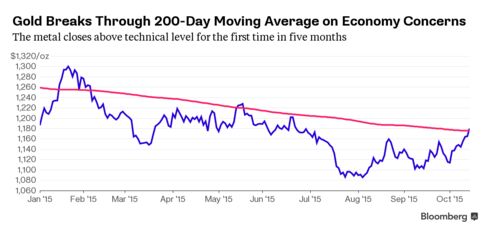 The odds of a rate rise in December have dropped to 29 percent, from 74 percent just two months ago, futures trading show. Gold surged 70 percent from December 2008 through June 2011 as the U.S. central bank fanned inflation fears by purchasing debt and holding borrowing costs near zero percent in a bid to shore up growth.
 The metal's gain above "the 200-day moving average gives longer-term confidence" to bulls, Frank Holmes, the San Antonio-based chief investment officer at U.S. Global Investors, said in a telephone interview. "Gold only becomes unattractive when you can't earn money on it."
Gold futures for December delivery gained 1.2 percent to settle at $1,179.80 an ounce Wednesday on the Comex in New York. The 200-day measure is near $1,176. The metal is coming close to erasing its 2015 loss, and is down just 0.4 percent since the end of December.-Bloomberg